Kasha and dear Uncle Zed… something to consider
Kasha is so important to Slavic cultural identity that there are several metaphorical expressions referring to it in the Russian language. For example, if you can't "make kasha" with someone, you just won't get anywhere with them. And what about Led Zepplin's memorable song going something like this:
"I've had kasha in my head for so long it's not true."
Kasha is a common staple food served in most eastern European and Russian kitchens and certainly in the homes of Ashkenazi Jews where it is sometimes used to fill knishes (a type of filled or stuffed bread). Made from the ripe seeds of buckwheat, Polygonum fagopyrum, we may think of it as a cereal, but it is not a true grain, even though it is sometimes referred to as buckwheat "groats" which means "grain" (go figure).
Botanically, it is related to rhubarb. This native of northern and central Asia is said to withstand harsh climates and will ripen even if the soil is poor. In farming, it is used extensively as a green, live-growing manure and is well known as a bee plant – buckwheat honey is quite distinctive! And who doesn't love the hearty taste of buckwheat pancakes with sweet maple syrup? There are several cultivars of buckwheat, as well as several wild cousins.
Japanese cooks are no stranger to buckwheat either; they have been turning it into soba, or buckwheat noodles, for centuries, and making them is a splendid art form. Soba noodles are especially eaten on New Year for bringing in prosperity; all grains are connected with abundance in one way or another. According to macrobiotic food theory, this somewhat triangular-shaped kernel is said to provide the body with a reservoir of energy and stamina, of benefit during fall and winter. Buckwheat is a source of rutin, a bioflavonoid that contributes to capillary strength.
The word kasha did not always specifically refer to buckwheat. This term was brought to the U.S. by Jewish immigrants around the beginning of the twentieth century. Similar to the word corn in Great Britain, it referred to other grains as well, such as an oat kasha for breakfast. Hundreds of years ago, the word also meant "feast", with tales of splendid kashas given by magnanimous rulers. Kasha was an important ritual food, a fundamental component of weddings, funerals, and even peace-treaty signings.
It's New Year 2019, and I would love for you to try this dish. Some versions of the recipe tell you to mix the egg and buckwheat together in the skillet, but I like stirring up in a bowl first. This recipe makes 4 servings as a side dish.
Kasha

1 cup buckwheat groats
1 egg
2 cups boiling hot chicken broth or water
2 tablespoons butter
salt & pepper

Start by heating a large, heavy skillet over medium heat, wiping the pan with a bare skim of butter or schmaltz. While it is heating, stir the buckwheat and egg together in a bowl. Pour into skillet and stir until the grains become separated and dry; the egg may stick a little at first. Add the broth or water, the butter and seasonings, then stir once before covering tightly and lowing heat to a simmer as for rice. Check after 15 minutes for doneness (it should remain a little chewy) and drain excess liquid if necessary. Do not let the kasha get mushy.
There are many variations on the basic recipe. Some feature wild mushrooms, another important staple of the eastern European kitchen. Some use kasha as a filling for piroshky, sort of a Slavic potsticker. There is even dessert kasha with nuts and dried fruits and spices. Once you know how to make the basic recipe, you can experiment to suit your own taste.
If you wish to take kasha to the next level, you can imagine your own Bubbe cooking this next meal just for you…
Kasha Varnishke

Make one recip basic kasha, as instructed above. While it's simmering, saute 1 medium onion, chopped, in about 1 teaspoon schmaltz (rendered chicken fat) or butter; keep warm. Meanwhile, boil 1 cup bow-tie pasta in plenty of salted water until done to your liking, or about 12 minutes; drain pasta when cooked. In a large bowl, combine the hot kasha with the onions and pasta, salt to taste, and serve. Ess! Ess!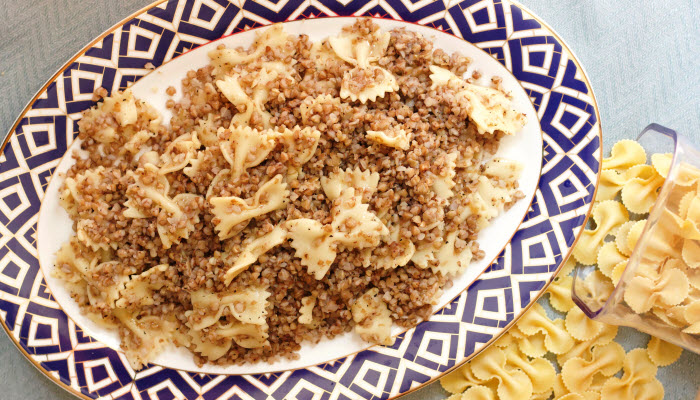 © Doreen Shababy
This article is adapted from "K is for Kasha" on p. 182 in my book, THE WILD & WEEDY APOTHECARY (2010 Llewellyn Publications). https://wildnweedy.com/product/wild-weedy-apothecary-book/