The Stinking Rose, or, Did Someone say Gahlick, Dahling?
This culinary member of the Lily Family has been used for food and medicine since prehistoric times. The sulfur compounds present in garlic (as well as their smelly, delicious oniony kin) are essential for many basic physiological needs, including a healthy metabolism, insulin production, keratin and collagen structure, and the prevention of free-radical damage. The juice from a freshly cut clove of garlic is a known antibiotic; you can rub a cut on your finger with a piece, and while it will likely burn like the devil to do so, it will remain free of infection. Garlic is a potent anti-oxidant and can possibly help reduce cholesterol. One of my favorite ways to use garlic is in a tonic concoction that'll really put hair on your chest.
Zip Garlic Tonic — Peel and smash 2 heads of garlic and place in a clean pint-sized jar (with a tight-fitting lid). Cover with raw apple cider vinegar. Lay a piece of plastic wrap over the jar, close the lid tightly, then label and date the contents. Shake every day for 2 weeks, then strain out the garlic. Next, combine this vinegar with enough honey to equal the amount of infused vinegar (or perhaps a little more). Once it's dissolved, decant the vinegar-honey mixture into a bottle for easy dispensing. To use, add 1-2 tablespoons to a glass of water, and sip away. Keeps about 3 months at room temperature.
Garlic is probably the first thing we reach for when making a savory stew, and who doesn't put garlic in their chicken soup? For the wild-foods enthusiast, a fresh picking of spring dandelion buds (before the flowers open) can be sautéed with olive oil and chopped garlic for a unique side dish. We also enjoy this oven-baked artichoke dip made with a big handful of garlic to find out who our real friends are.
Glorious Artichoke-Garlic Dip — Heat oven to 400˚F. In a large bowl, combine 1 pint sour cream with 8 ounces softened cream cheese. Next, stir in 1 cup grated Parmesan cheese, 6 cloves minced garlic, and one 15-ounce can plain artichoke hearts, drained and chopped, until well blended. Transfer to an ovenproof casserole, cover and bake for about 20 minutes. Then remove cover and finish heating for 5-10 minutes until bubbly. Serve with baguette slices.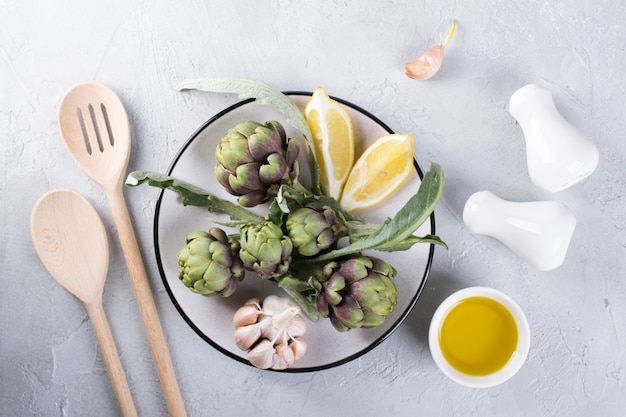 We all use garlic powder or granules in our cooking for various conveniences. Here is recipe for a savory herbal blend to toss into a simmering pot of beans; this combination  includes dried stinging nettle leaves, another nod to foraging the wilds. You can always add fresh garlic to the beans later, or dress them with a garlicky salsa at the table.
Greens for Beans Herbal Seasoning – makes about 2 cups
Combine the following ingredients in a bowl, using your hands to mix thoroughly if you like, then store in a glass jar. Use 1 tablespoon seasoning blend for each 2 cups dry beans (which of course must be washed and soaked overnight before cooking). This seasoning blend would also make a good starter for vegetable broth, with the addition of fresh or dried mushrooms.
½ cup kelp granules or flakes
½ cup dried nettle leaves
2 tablespoons each garlic granules/powder, marjoram, oregano, sage and savory
1 teaspoon dried ginger root powder
Bring soaked, drained beans and plenty of fresh water to a boil in a kettle, then reduce to a simmer and cook until tender, 1-1/2 to 3 hours depending on the beans (pintos take much less time than garbanzos), adding water or broth if needed. Wait until the beans are about halfway cooked before adding salt.
I hope this brief garlic-recipe sampler has you hungry for more of this delicious and healthful "stinking rose". Garlic is very easy to grow, and it is a companion plant to the actual Roses in your garden to help protect against aphid infestation; you can even make a garlic spray and apply if you do discover those little green bugs that suck the lifeblood out of your plants – I have yet to discover a way to use aphids in any way good! Maybe with a little garlic butter?!?
© Doreen Shababy